Do you have bed bugs? Jim's are the bed bug treatment experts. Our techs servicing Hobart and regional Tasmania are experienced, fully trained, and insured. You can trust the Jim's name to help you with any pest problem.
To get in touch with us about your bed bug problems, simply call 131 546 and our friendly staff will take your details.
For bed bug treatment, Jim's techs are the experts
Bed bugs are a horrifyingly annoying pest that you absolutely do not want to find in your home. They are a blood sucking insect that should send the shivers down your spine as soon as they are mentioned.
Unlike other pests, these ones attack in the middle of the night. Most people do not even know they have them, and just think the bites they find on their bodies are from mosquitoes.
Bed bugs are one pest you will need professional help to eradicate.
Over the years they have been sprayed with every chemical you can think of. While it killed some, it often did not kill them all. This has led to bed bugs building up a resistance to treatment.
If you try applying chemicals that you purchase from supermarkets or hardware stores, they will have little effect.
Often people try to treat bed bugs themselves. In the first few days after treatment they will not see any, but soon after they will return with a vengeance.
When people concede that they cannot fix the problem themselves, they will call Jim's for expert help.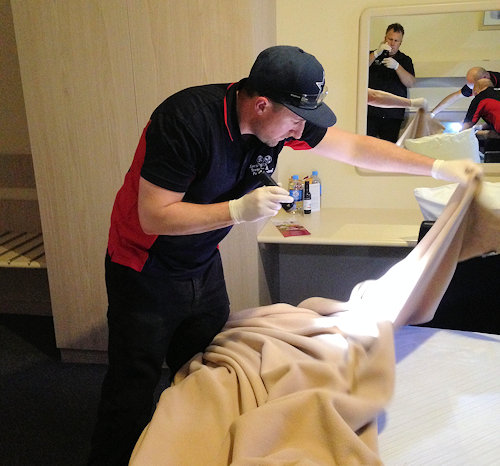 Call now and we'll work with you to control your Bed Bug Problem – Guaranteed!
Unfortunately, as bed bugs have been bombarded with all types of chemicals over the years, they are resistant to most.
Manufacturing companies have realised this and are now developing new bed bug treatment products. Because these pests are such a concern, they are limiting the availability of these products to pest controllers only.
This is done to ensure products are not overused, hence remaining effective for treating the insects.
How do I know if I have bed bugs?
Most people think that you cannot see bed bugs, however this is not true. They are typically the size of a pea, just flat and brown in colouration.
They have an unusual feeding pattern which sets them apart from other pests. In the industry we like to call it "breakfast, lunch and tea". By this we mean they will bite you three times and usually in a straight line.
Often, from just looking at bite patterns, your local Jim's Pest Control technician will be able to confirm if you have an infestation or not.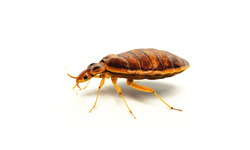 Bed bugs are typically difficult to eradicate. There is a "bed bug code of conduct" that both clients and pest controllers must follow.
Regarding any treatment, there are strict procedures that must be followed. For example, any clothing and linen must be removed, and washed then tumble dried for a minimum 45 minutes at 75 degrees. Failure to do so will result in a re-infestation.
Any goods that cannot be tumble dried must be frozen instead.
Steam cleaning of mattresses by a truck mount unit is a must. Mattresses must be encased in a bed bug mattress protector as well.
As you can probably see by now, see there is a lot of work that needs to be done to successfully eliminate bed bugs in your home or commercial premises.