Are you worried about termites invading your Hobart home? Jim's are the termite control experts. Our techs servicing and Tasmania are experienced, fully trained, and insured. You can trust the Jim's name to help you with any pest problem.
To get in touch with us about termite treatments, simply call 131 546 and our friendly staff will take your details.
Jim's technicians are the termite control experts
Termites are not a significant problem in Tasmania. In fact, most people think that there are no termites.
Because we have harsh environmental conditions in Tassie, it is thought that they cannot survive. This is however incorrect. There have been multiple reports of active termite activity.
It is important to our local business owners to understand the signs that indicate termites are present. Even though they are not likely to come across them, they must be able to identify them if they do.
Imagine how devastating it would be to a client if we were unable to identify these home wreckers?
Because most pest control companies in Hobart have never seen termites, if they come across them, they will be at a loss as how to treat them.
This is where engaging Jim's Pest Control gives our clients a distinct advantage. We have hundreds of fully trained technicians right across Australia. A large percentage of these technicians will be treating termites daily on the mainland.
Our local business owners in Tasmania have access to this extensive knowledge base. If they come across termites, or the signs of termites, a quick phone call can confirm their findings.
When it comes to termite control, tapping into this significant knowledge base will be invaluable.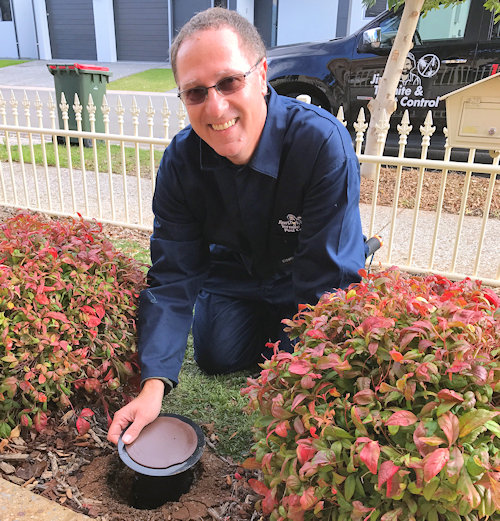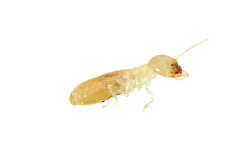 All technicians are trained in termite detection
Even though the cases of termites in Hobart are few and far between, it is still important to be trained on detection. There is no use looking at possible termite damage, and then not be able to identify it.
Therefore, all our Tasmanian technicians have been trained in all aspects of termite detection. They spend an extensive amount of time with a senior tech looking at termites.
Jim's Pest Control are the go-to experts you can trust if you think you have termites.
While termites are not a major concern in Tasmania, there are other timber pests we need to be aware of.
Timber borers are one pest that can be a concern in the area. These pests bore into timber and can cause some structural issues. For example, if borers eat into a structural beam in a building, it could cause that beam to fail. In the extreme, this may result in a roof collapsing.
Wood decay is another issue that you find in Tasmanian buildings. This can be caused by rot, fungus, or mould. Being able to identify these issues is important when purchasing a new home.
Repairing timber that has wood decay in it can be expensive, therefore you should have a Pre-Purchase Timber Pest Inspection [**link] before purchasing a property.
Call now and we'll work with you to control your Termite Problem – Guaranteed!