Looking for safe and effective possum removal? Jim's is your local expert. Our techs servicing Hobart and Tasmania are experienced, fully trained, licenced, and insured. You can trust the Jim's name to help you with any pest problem.
To get in touch with us about fixing your possum problem simply call 131 546 and our friendly staff will take your details.
Successful possum removal will require the help of a Jim's professional
Possums are a cute a fury creature that most people love to feed. Those big brown eyes just make you want to give them an apple.
In the wild they will feed on blossoms and fruit, but when we plant fruit trees and vegie patches, they will often invade our yards.
Once they have established that your yard has a rich food source, they will move in. In addition, they will investigate your roof void or shed to look for somewhere nice to sleep during the day.
It's at this stage (usually) when Jim's Pest Control is called. Although they are cute to look at in your yard, or hanging around in a tree, they are not great if they move into your roof void.
Often, the noise they make can be so great that they can be mistaken for burglars.
Possums can be quite tricky to catch. They are shy creatures and tend to avoid new things in their environment. If you provide the right food source, they will not be able to resist and will walk straight into a prepared trap.
Jim's Pest Control are the experienced and licenced local experts when it comes to catching and evicting your unwanted guests. Our techs know what food they prefer and even have a few tricks up our sleave.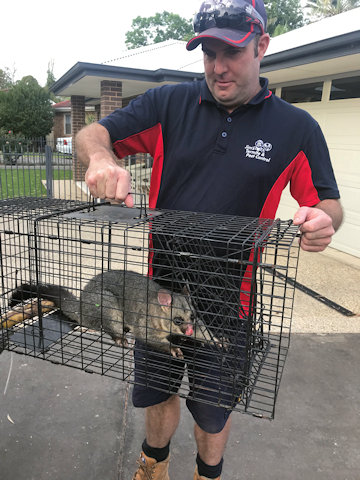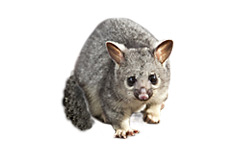 Have you got your permit?
Possums are a native Australian animal, and as such, they are a protected species in some states. On the mainland you can only catch and release these cute critters.
However, in Tasmania they are regarded as a pest. This means there are two options when it comes to possums. Firstly, we can catch and remove the offending possum.
It can then be safely released back into the bush, or in some instances can be destroyed.
At Jim's Pest Control we prefer to catch the possum. Part of the Jim's service is to possum proof the entrance to your roof void before releasing the possum.
We find that in most cases this will fix the possum issues our clients are have been enduring. Unfortunately, in some circumstances we may need to destroy the possum, especially if it is persistent at entering a roof void.
Either way, to catch and release or destroy a possum you will need the appropriate government permit. All or our technicians have such permits.
Proof your roof – the only way to keep them out
When a possum enters a roof void, they will often smear some pheromones around the entrance point. This is like a big neon sign to other possums that shows them where to enter.
To stop possums successfully, these entrance points need to be sealed. You may be quite handy and be able to seal these points yourself, but if not, a local maintenance person may be required.
Your local Jim's Pest Control technician will be able to put in place a temporary proofing measure until this can be done.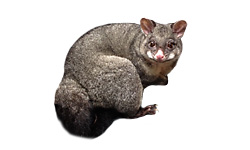 Call now and we'll work with you on possum removal  – Guaranteed!