Have you spotted a mouse running around your kitchen? Jim's are the mice control experts. Our techs servicing Hobart and Tasmania are experienced, fully trained, and insured. You can trust the Jim's name to help you with any pest problem.
To get in touch with us about your mouse problems, simply call 131 546 and our friendly staff will take your details.
Jim's Pest Control Hobart the mice control experts
Mice are one of those secretive little pests that you may not know you have. They will scurry about when the lights are out.
Often, you will only discover the evidence that you have mice, but not actually see them. Bite marks in fresh fruit is how most people discover they have mice.
When they take a closer look, they will often find they have invaded the pantry as well. Chewed packets of food is a telltale sign that you have an unwanted guest.
Your local Jim's Pest Control tech will show you the other signs you need to look for.
Mice can be fussy eaters, and many shop-bought pest control products will not have the desired effect. The reason for this is that mice have some yummy foods available in your home or business.
Many supermarket bought pest products may be stale, and not taste particularly good. Now, just think that if you were offered a 6-month-old sandwich against one that was just made, which one would you eat?
Therefore, most DIY (do-it-yourself) mice treatments do not work. Eventually a Jim's Pest Control technician will be called in to do a professional job.
We are very fussy about the baiting products we use for mice control. Using freshly manufactured baits ensures that they are likely to be consumed quickly.
This is just one of the advantages that make us the go-to experts when it comes to controlling mice in Hobart and regional Tasmania.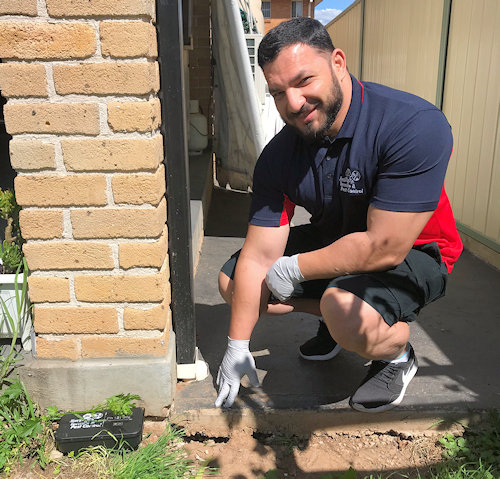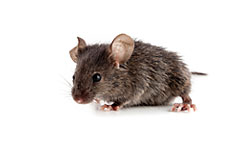 Baits secured in plastic lockable stations
It is extremely important when placing rodent baits that they be secured. On the perimeter of a building we use lockable stations. These stations are extremely durable and will take considerable effort to break into.
In kitchens and roof voids we again use lockable bait stations. Where mice are an issue, a small station will be used.
Often in roof voids mice and rats may shy away from stations. In these cases, your technician will use wire to secure some loose
When most people think of mice, they imagine a cute little creature munching on a piece of cheese. In fact, mice have a varied diet, and there is a wide range of food that they will eat.
Yes, typically they will eat cereal based products. They will, however, relish feeding on proteins if it becomes available.
Our local Hobart techs know this only too well. They often also come across mice in a cockroach infestation. The mice will happily feed on cockroaches, and most of these clients do not even know they have two pest issues.
Call now and we'll work with you to control your Mouse Problem – Guaranteed!